Application
Let's get started

1. What do they call you? Sally
2. How old are you? 19, turning 20 this year
3. Sexuality? Straight
4. Single, taken, or somewhere in between? Taken, but only since last week :P
5. Any pictures of the above? Or friends maybe?
The boy:


Me and my best friend Tepy: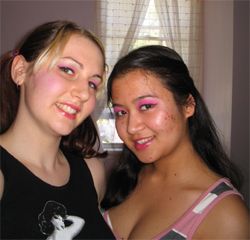 Tepy, ciara and Me:


Me and Katie: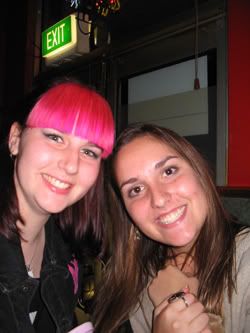 Me and Ainslie: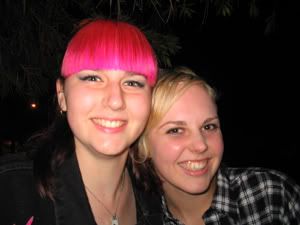 Cliche but still necessary

6. Sum up your style in as few words as possible but still being as specific as you can. Pink and black, leopard print, pencil skirts, band shirts.
7. What's your favorite outfit?


this skirt and the heels
+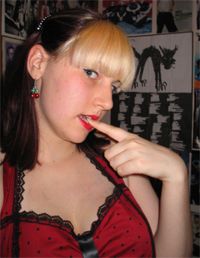 this shirt
8. Name some bands you'd recommend to somebody. Eighties Matchbox B-Line Disaster, Zombie Ghost Train, Death From Above 1979, Shakeout, Madness, Choking Victim
9. Do you read much? Name some books. Not much, which is funny considering i am an English major at university. However i do like the work of Edgar Allan Poe and Jessica Addams (Cool for Cats). Plus Sylvia Plath- The Bell Jar of course.
10. Movies and TV shows that keep you entertained. Go. Napoleon Dynamite! Grease! Pretty much any Tim Burton film, especially Edward Scissorhands and the Nightmare Before Christmas. Amelie. American Splendor. Swingers. Tv shows... Freaks and Geeks, Degrassi Junior High, Black Books, The Office,The Oc (guilty pleasure...), Neighbours, Lizzie McGuire, Fairly Odd Parents. I love kids tv.
11. What do you do when you're not applying to rating communities? I go to university where i am soon commencing my final year of a bachelor of the arts. I am majoring in english and women's studies (my focus is women's studies), and i also work 3 days a week as a shop assistant in the bakery! I'm usually asleep if i'm not at one of these places... haha
12. What do you want to be when you grow up? (Realistic or unrealistic, it's up to you.) A kids tv presenter. I think that would be fun, i don't really like kids though. haha. I honestly have no clue. I'd love to own my own store of odds and ends though.


Essay portion. Don't fret, I'm kidding.

13. Give a short discourse on something you're passionate about. I think that medicine in relation to women's health has moved too far into a masculine realm. I hate the fact that women can now choose the date of birth of their child (via caesarean- by choice, not necessity), because they don't want to alter the condition of their cunts and just want to book it in. Child birth shouldn't be a surgical experience, it is a natural occurence and i don't like how men write books on how a pregnancy should be carried out when realistically they will never experience. However, i do like some medical progressions in relation to women's health, such as making abortion more available. I believe every woman should have 100% control of their own body.
14. How do you feel about love? Any good or bad personal experiences with it? I love a lot of things and a lot of people, i've had good experiences, well they were good at the time but in retrospect i was blind to all the shit things that were happening in front of me. I don't believe in a one true love though.
15. Ever had an orgasm? How was your first one? haha yes. It was pretty much exactly as i thought it would be.
16. What's the most annoying thing on the planet? ring tones!
17. What's the most interesting thing that's ever happened to you? I was recognised by Kamilla Vanilla of Horrorpops fame from Myspace... that's about as interesting as i get.
18. Define "trashy". Give examples of things you think are trashy. Pictures are awesome. Trashy is people who steal other people's partners. Or people who marry their cousins.
19. Define "beautiful". Give examples of things you think are beautiful. Beautiful is everybody, cliche i know. But seriously. I think everyone is beautiful in their own way. People smiling to themselves is beautiful. Couples who have their own secret world is beautiful. Baby animals are beautiful haha. Curves are beautiful.


Sell yourself to us.

20. Why do you deserve to be a cat or kitten? I have my own mind, and my own body. I don't think i follow any trends, and i think that is an admirable aspect to any person.
21. What made you want to join this community? It seems like an interesting rating community, since it is not only reliant upon looks. Plus i love opinionated people.
22. What are your best features, physical or other? My laugh. I tend to find the lighter side of everything. I have a big heart, i genuinely care about most people. Physical... i have curves. I dunno about you, but i love curves.
23. Promote us somewhere. If you're afraid of getting banned for spam, promote us to someone via AIM. Provide a link or the portion of conversation. I promoted through my own journal: http://everpinkus.livejournal.com/164934.html#comments
24. Any last comments or suggestions? Suggestions about the layout or application would be really appreciated. no suggestions here! maybe create a banner to promote? I could help with that if i'm accepted!
25. Now that that's all over, provide us with 5 pictures of yourself. Showcase your style as best you can.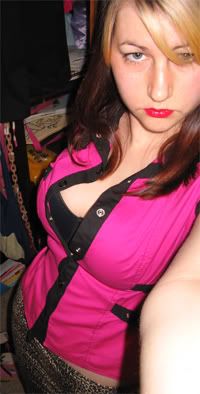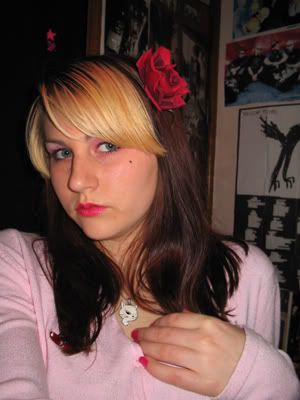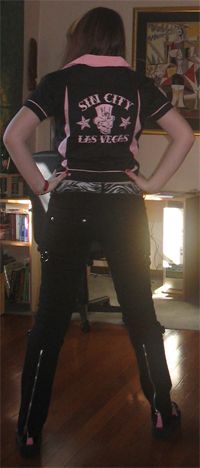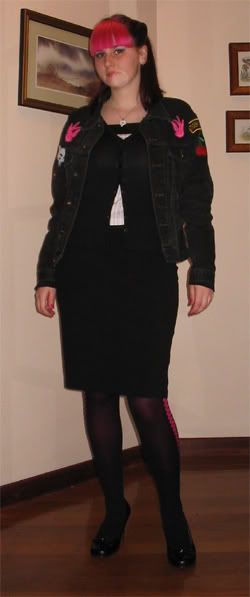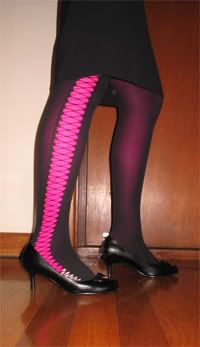 thanks for looking! :)